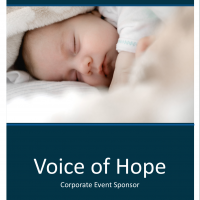 2021 Corporate Event Sponsor
By Barbara Mills | January 13, 2021
Voice of Hope partners with local businesses and churches to insure all proceeds raised at events will go DIRECTLY to the ministry of saving lives and strengthening families.

To underwrite our fundraising events for 2021, I would like to invite your organization to partner with Voice of Hope as a Corporate Event Sponsor. In exchange for your partnership, your organization will have honorable mention throughout the year. There are six sponsor levels to select from.

I hope to work with you in 2021 in our continuing mission of saving lives and strengthening families! Please complete the last page of the CORPORATE SPONSOR PACKET complete and send it to our main office. Payment arrangements can be made for a later date if needed.


Back